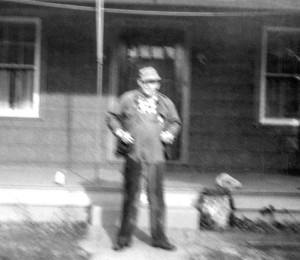 A Kodak Brownie Holiday was my first camera, a wondrous gift for a little boy in 1957. I ran outside and took my very first picture — a shot of our next-door neighbor.  Mr. Weikel stood there in his work clothes, hands on hips, looking right at me.  The joy in his big smile made the picture a masterpiece in my young eyes, although his expression is indiscernible in the blurry photo.  A kid with his first camera:  it was magic!  All these years later every time I shoot, that little kid shows up.  And it still feels like magic.
* * *
As a non-commercial photographer, I enjoy the freedom of following my personal vision.  I love being part of the vast photographic community, a boundless resource for inspiration, communication, and encouragement.
In gratitude and appreciation I tip my hat to Bobbi Lane and to Dennis Keeley for their keen instruction and for their dedication, energy, and generosity of spirit.  And their patience.
Thank you for visiting my website. Please contact me if you have comments — I'd love to hear from you.
— Ed